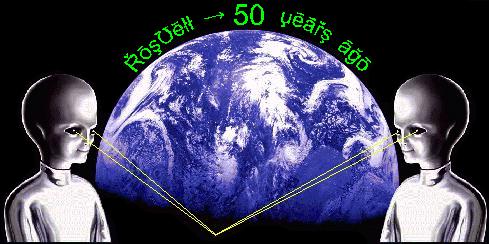 Is there any connection:
Great Tunguska Explosion(1908),
Roswell UFO crash(1947),
Dalnegorsk UFO crash(1986)...
with interval of 39 years or
triple Devils Dozen(3x13) or
maybe PI x 13 ?...
1908
39 years
1947
39 years
1986
On June 30, 1908, a giant fireball raced across the night sky. Then it exploded with the force of 1,000 Hiroshima bombs killing herds of reindeer and scorching hundreds of miles of trees. It happened in a remote place of Siberian
wilderness near the Podkamennaya Tunguska River.
More...

The explosion created a distinct pattern of tree fall around Tunguska spreading over an irregularly shaped 40 by 45 kilometer area. It is calculated the object measured some 300 feet across and had the force of a 15 megaton nuclear bomb. Upwards of 40,000 trees in the forest were destroyed.
More...

On the evening of 2 July 1947 a bright, disc-shaped object was seen flying over Roswell, New Mexico, heading north-west. The following day widely scattered wreckage was discovered about seventy-five miles north-west of Roswell by a local ranch manager.
...here was another crash site, in an area west of Socorro, New Mexico, known as the Plains of San Agustin, where witnesses discovered not only a damaged metallic 'craft' but also dead bodies... More...

---

On February 12, 1947 a blazing fireball estimated to mass 70 to 100 tons exploded 3.6 miles above the Sikhote-Alin Mountains north of Vladivostok, Russia. When the main detonation occurred, Sikhote-Alin had already shed most, if not all, of its cosmic velocity.
More...
It seems the most important incident so far was the crash of an unknown object on Dalnegorsk Hill 611 on January 29, 1986, at 7:55 p.m.
More...

According to the Far Eastern Commission, 45 UFOs were registered in 1987, 15 in 1988, 32 in 1989 (up to the month of July). Nor have the sightings been restricted to Dalnegorsk alone. Other cases have been reported near the larger city of Vladivostok.
More...
Copyright ©1997-2010 Global Connection
All Rights Reserved
Alexander Krivenyshev
Александр Кривенышев